Big Brother Birds

big bro bird plush

Color

red purple viliot black white yellow-ish.

Angriness

grumpy/angry

Top Part

2 feathers

Related To

red bird and old red bird

Enemies With

pigs
Big Brother Birds
are characters in the Angry Birds series of games created by Rovio Entertainment. The main Big Broher Bird in
Puffleville
is
Birdy Bird
. In Angry Birds, they were introduced in 2010 and was the second new character added to the game who was not one of the original five birds in the Flock. There is also an entire episode was dedicated to his introduction. There is 2 big brother birds in
Puffleville
.
Birdy Bird
and Birdy Bird's Cousin (actual name).
Personality
Edit
Big Brother Birds has a short temper when it comes to egg theft and, like most of the Flock, become enraged easily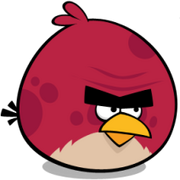 when eggs are discovered missing. Terence is a loner but can be counted on to fight the Bad Piggies when needed. His immense size makes him a veritable wrecking ball to Pig fortresses. The Flock doesn't try to control him and often will just get out of the way and let the Big Brother Birds wreak destruction. They especally hate
Psychodude
and his team.
When you use Super Seeds on this bird he is huge.
Little is known about Terence before he joined the Flock. When first seen, the The Big Setup Pigs capture the neire flock. Terence might have thought the birds were part of his flock so he helped them. Terence freed the Boomerang Bird and together they freed the Flock, chasing the Pigs through many different terrains. It should be noted that it was Terence alone who defeated the Helmet Pig, Moustache Pig and King Pig. He was welcomed into The Flock and has been a member ever since.

In the course of the battles with the Pigs, he has traveled to many different locations and environments, including the desert, undergroud caves and beaches. The Pigs never rest in their quest to steal eggs and the Flock often has to retrieve their eggs on holidays and special occasions.

At an indeterminate time later, the Flock was captured as rare birds and taken to Rio de Janeiro, Brazil where they fought with Blu and Jewel and their friends against Nigel and Mauro and his marmosets. Big Brother Bird did not appear originally in Rio, but arrived much later after the others, so it is possible he was not captured originally and made his way to Rio to help rescue The Flock.