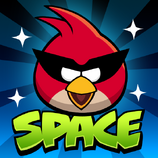 Angry Birds Space
is the fourth (and latest) installment to the Angry Birds series. The release date was
March 22nd. It was first announced on the Angry Birds Space page.
Pre-Release
Edit
Posters began appearing for the game in February 2012.
Press Release
Edit
On March 8, 2012, Rovio posted a press release date about the game with further information:
Game descriptionEdit
After a giant claw kidnaps their eggs, the Angry Birds chase it into a wormhole and find themselves floating in a strange galaxy surrounded by space pigs! Luckily the Angry Birds have super powers of their own...
Angry Birds Space features 70 interstellar levels' on planets and in zero gravity, resulting in spectacular gameplay ranging from slow-motion puzzles to lightspeed destruction. With regular free updates, new in-app purchases, brand new birds, brand new superpowers, and a whole galaxy to explore, the sky is no longer the limit!
Features:
70 interstellar levels!
Regular free updates!
Brand new birds!
Brand new superpowers!
Zero-gravity space adventures!
Trick shots using planets' gravity!
New in-app purchases for iOS!
Hidden bonus levels!
Beautifully detailed backgrounds!
Brand new bosses!
New Space Egg character!
Trick shots using air from valcanos!
Q: What is Angry Birds Space?
A: Angry Birds Space is a brand new game by[1]Rovio[2]Rovio,ClIcK gAmER,Chillingo, creator of the global phenomenon Angry Birds.
Q: Is this an update, or a new game?
A: Angry Birds Space is a completely new game with innovative new gameplay. From floating through space to using the gravity of nearby planets to set up spectacular trick shots, the unique background takes traditional gameplay to a totally new level. In addition, the Angry Birds have new superpowers and eight new characters.
Q: When is it coming out?
A: On March 22nd we'll launch simultaneously in mobile gaming, animation, retail, and publishing. Not only is this the first big launch for us as an integrated entertainment company, but the first time this has ever been done for a mobile game!
Mark your calendar and stay tuned for the biggest game launch since the original Angry Birds!
Q: When is the official announcement?
A: The official announcement was online on March 8th at 10am EST/3pm GMT at [3]. The announcement was literally out of this world, with Flight Engineer Don Pettit introducing the game from the International Space Station.
Q: Where can I play the Angry Birds Space game?
A: Angry Birds Space will be available on iOS, Android, Mac, and PC on April 22nd. Information on other platforms will be available later.
Q: I'm intrigued! How do I get more information?
A: We'll be releasing more information through[4]angrybirds.com/space, so make sure to check back regularly. You can also check[5]Facebook,[6]Twitter, or the[7]Rovio[8]blog for updates.
The Daily - Birds in Space
Edit
On March 14, 2012, The Daily uploaded a free app that acts as an official companion to the game. The guide contains detailed information on the creation of the game, new characters and other information.
A THIN LINE
Edit
March 14, 2012 also saw the press release of a new collaboration between MTV's A THIN LINE anti-cyber-bullying campaign and Angry Birds Space. Once the game is launched on March 22, 2012, players who post a positive message to the Draw Your Line app will receive a hint as to where to get a code that opens a secret golden egg level. Additionally, an anti-cyber-bullying PSA featuring the Birds will be released that day. [1]
From The Daily - Birds in Space guide, a rough overview of the story was revealed:
One day,the birds were taking care of the eggs and a mechanical claw grabs the Birds' eggs and they follow it through a wormhole to arrive in the world of Space. There, some gain new powers or equipment. They meet Ice Bomb Bird, convinced he can help them get home, but Ice Bird is only concerned about saving his world from the Space Pigs and retrieving the Eggsteroid.
Space Pigs are the Bad Piggies, outfitted with new equipment allowing them to survive in Space and brandishing new challenges to the Flock, including the Space King's UFO (which houses the aforementioned claw) and the enormous Fat Pig.
King Pig in Rover
King Pig in UFO
Grandpa Pig
Fat Pig
Mega Pork
Astro Pig
Characters
Edit
Space Runt
Space Minion
Space Helmet
Comics!!!!
Edit
Different Planets
Edit
Cite error: <ref> tags exist, but no <references/> tag was found
Community content is available under
CC-BY-SA
unless otherwise noted.